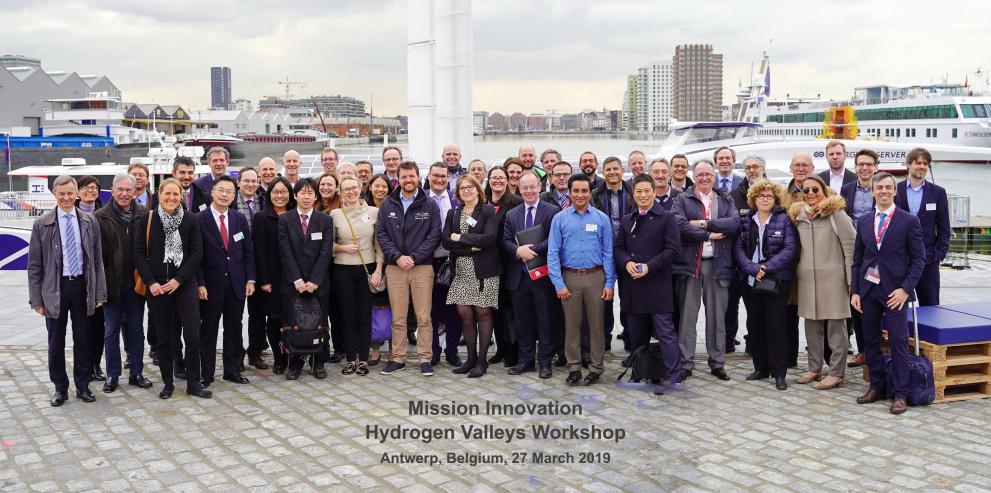 (Credit to Bernard Frois, CEA)
The two-day Antwerp workshop focused on the concept of "Hydrogen Valleys" as a pathway for demonstrating the significance of hydrogen in the energy transition.
A "Hydrogen Valley" is a geographical area – a city, a region, an island or an industrial cluster - where several hydrogen applications are combined together into an integrated hydrogen ecosystem that consumes a significant amount of hydrogen, improving the economics behind the project. It should ideally cover the entire hydrogen value chain: production, storage, distribution and final use.
As such, "Hydrogen Valleys" offer a pathway for scaling up and making this technology a viable solution. The objectives of the workshop were to:
Exchange information about the first "Hydrogen Valley" projects from Mission Innovation countries
Discuss and agree on the concept of the Mission Innovation information-sharing platform around "Hydrogen Valleys"
Finalise the IC#8 work-plan based on member priorities submitted via IC#8 survey.
The workshop gathered more than 80 attendees with interest in nascent "Hydrogen Valley" projects from Mission Innovation Hydrogen Challenge member countries. The participants included representatives of government and international organisations, industry and research. Fourteen case studies were presented from all major jurisdictions exploring hydrogen as a future energy vector: Australia, Austria, Chile, China, EU, France, Germany, Italy, Japan, Netherlands, UK and US, with additional input from the Port of Antwerp and Hydrogen Council. Multiple project types were presented - from industry driven clusters, through ports, communities and regions with abundant renewable energy or those under pressure to tackle air pollution issues, up to mining sites or knowledge driven communities.
Further information can be found in this newsletter article, published 13 May 2019 on the Mission Innovation website.
KEY DOCUMENTS
Compiled questionnaire responses of Hydrogen Valley regions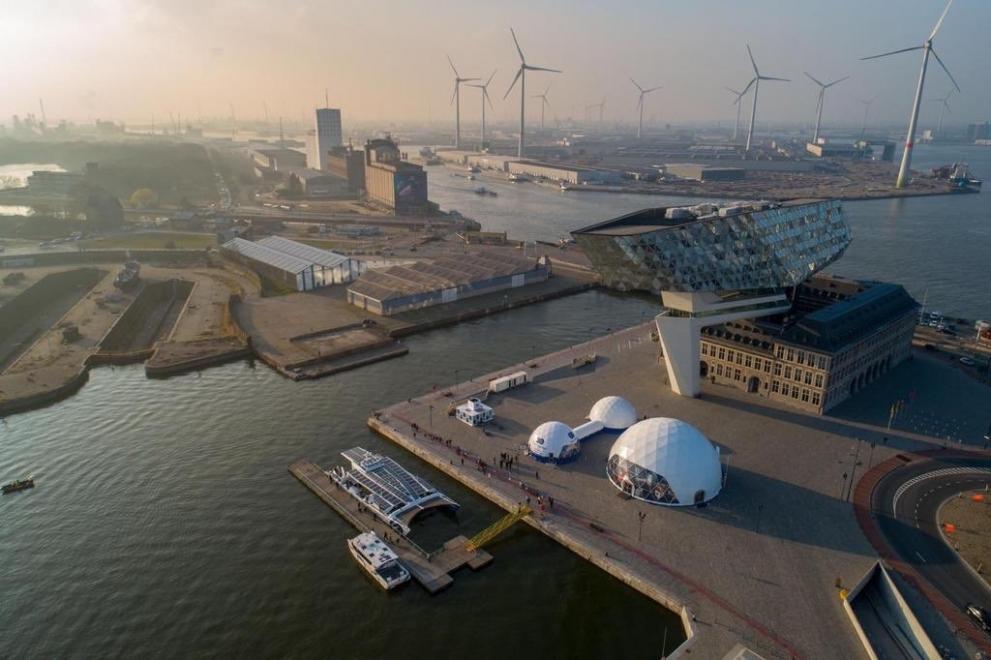 Energy Observer at the Port of Antwerp (Credit to Antoine Drancey, Energy Observer)
PRESENTATION SLIDES: MISSION INNOVATION "HYDROGEN VALLEYS" WORKSHOP, ANTWERP 26-27 MARCH 2019
Day 1 - Keynote Presentations
European Commission (José Cotta, DG Research & Innovation, EC). Introductions and objectives of the workshop.
Shell, on behalf of Hydrogen Council (Oliver Bishop, Shell). Hydrogen Council's vision of Hydrogen Valleys.
NEL (Dr. Uffe Borup, VP Technology - Hydrogen Solutions, NEL). Towards large scale hydrogen projects. (pending)
Day 1 - Hydrogen valleys
Day 2 - EU Initiatives
Background Information
Mission Innovation (MI) was formed in 2015 to accelerate the clean energy transition, which includes 23 countries from across the world, as well as the European Union. Their primary goals are to double research and innovation (R&I) investment in clean energy by 2021 and facilitate greater private sector engagement in clean energy.
The Renewable and Clean Hydrogen Challenge, or Innovation Challenge #8 (IC#8), was launched at MI-3, 23-24 May 2018 in Malmö. IC#8 recognises hydrogen as a key technology for the energy transition. The IC#8 objective is to accelerate the development of a global hydrogen market by identifying and overcoming key technology barriers to the production, distribution, storage, and use of hydrogen at gigawatt scale.
IC#8 can play an important role in addressing aspects related to broader energy system integration, business models, (global) market design and validation. In addition, enabling regulatory frameworks are key for hydrogen, and are not in the focus of Mission Innovation.