research programme

Thursday 23 September 2021, 02:00 (CEST)
Practical information
When

Thursday 23 September 2021, 02:00 (CEST)

Languages

English
Description
The Digital Workshop "Ammonia as a green shipping fuel: challenges and opportunities" will take place on 23 September 10:00 a.m. CEST.
Ammonia is going to play a pivotal role in decarbonizing the global maritime industry, but no vessels of any size today are equipped to use the fuel. The goal of the digital workshop is to set up a discussion about both the opportunities and challenges, involving subjects at the forefront of this innovative path.
Speakers
Kurt Bodewig, EU Coordinator for Motorways of the Sea
Bart Biebuyck, Executive Director, Fuel Cells and Hydrogen Joint Undertaking

Tore Boge, Project Coordinator, ShipFC
Charles Haskell, Decarbonisation Programme Manager, Lloyd's Register
Eystein Leren, Director Industry & Market Leads, Yara International
Sabas Martinez, General Manager, NYK Energy Transport (Atlantic) Ltd
Liu Ming, Researcher,Maritime Energy and Sustainable Development - Nanyang Technological University
Grzegorz Pawelec, Research, Innovation and Funding Manager, Hydrogen Europe
Josep Sanz Argent, Project Manager, Innovation and Development - Fundación Valenciaport
Tjalve Magnusson Svendsen, Researcher, Prototech
About ShipFC project
FCHJU-funded project, ShipFC, will install the world's first high-power ammonia fuel cell on a vessel, with the ultimate goal of demonstrating the feasibility of ammonia fuel cells for ocean going vessels and long sea voyages: effectively opening up a completely new option for zero-emission shipping and creating the starting point to build up the market for zero-carbon fuels.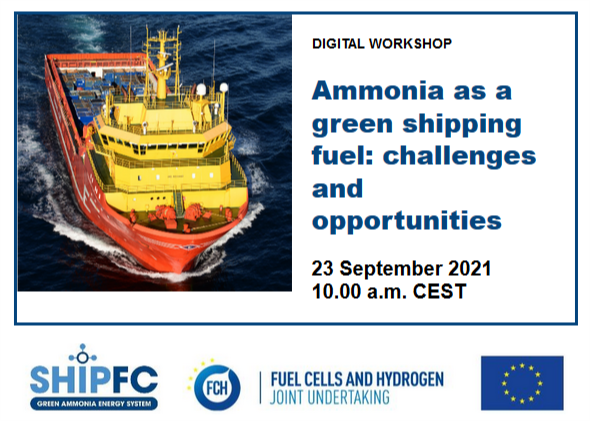 Related links