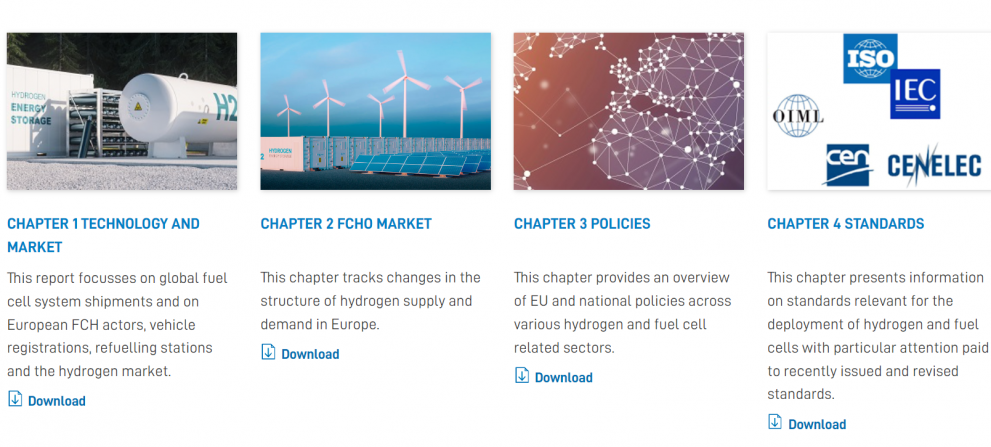 Technology and Market: Following the effects of the global pandemic in 2020, the fuel cell and hydrogen industry has rebounded strongly. The global number of fuel cell system shipments increased by 75.7% in 2021, totalling 2,330.4 MW. The number of shipments to Europe grew by 33% to 197.8 MW from 149 MW in 2020. Similarly, after a period of slow growth in 2020, HRS deployment in Europe rebounded, with 170 stations in operation by the end 2021, an 11% increase from 2020. In the same direction, 3,885 new FCEVs were registered in Europe in 2021, an increase of 36% from 2020. Following a sharp decline in the number of electrolysers commissioned in 2020 (only 2 units totalling 1.5 MW), 2021 saw 14 new units in Europe, with a total capacity of 27 MW. All these numbers are expected to grow significantly over the coming years.
Supply and Demand: The European hydrogen market remained relatively stable in terms of supply and demand. Total hydrogen production at the end of 2020 has been estimated at 11.4 Mt per year, while hydrogen consumption has been estimated at 8.6 Mt, which means an average capacity utilization of 76%. Hydrogen production capacity of electrolysers also remains low, with 114 identified operational projects in EU, EFTA, and UK totalling 99 MW.
Policy updates cover 34 countries from across the world, 26 of which are members of the EU/EEA plus UK. Hydrogen policies are relatively commonplace among European countries, but with large differences between Member States. Among the surveyed countries, 19 out of 34 have a national hydrogen strategy compared to 12 countries the previous year.
European and international Standards: The report presents the developments in European and international standards. 11 new standards have been published in 2021 & 2022 in the areas of fuel cell technologies and safety and measurement protocols of hydrogen technologies. In the upcoming years multiple standards are expected to be replaced.
The global data on Patents for the period 2014-2021 provides an indication of the evolution of research and development activities in the fuel cells sector. Over the period, the total number of patent filings in the sector increased. The number of mobile fuel cell patent filings far outpaces portable and stationary fuel cells and patent filings for hydrogen production dominate the hydrogen economy filings.
Education & Training: Data gathered through the Education and Training material module of FCHO show that master programmes and professional training courses remain the most popular categories. The cross-sectoral nature of hydrogen in teaching is reflected in the diversity of existing Master's degree programmes. The prevalence of training courses offered by Western European countries is still noticeable even though the geographic coverage expanded to 20 countries.
The six reports can be found here.
Follow FCHO on Twitter and LinkedIn to receive notifications of future FCHO publications and activity.
Details
Publication date

7 June 2022

Author