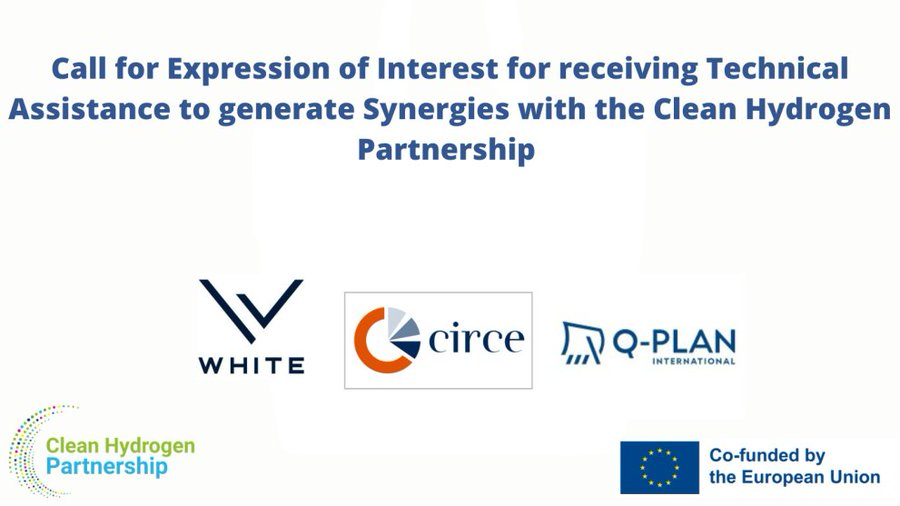 The Clean Hydrogen Partnership is looking for regional and national Managing Authorities from the EU-27 and Horizon Europe associated countries with which to develop cooperation in relevant key areas for hydrogen development.  
This initiative is the latest in a series of valuable collaborations between the Clean Hydrogen Partnership and authorities at different territorial levels (regional/national) and represents an outstanding opportunity to work together to advance hydrogen in your region/country. Around 10 Managing Authorities will be selected based on information provided in their expressions of interest. 
In pursuing this initiative, the Clean Hydrogen Partnership has contracted a team composed of CIRCE, White Research and Q-Plan International. 
What support will be provided to the successful Managing Authorities? 
The successful Managing Authorities will receive targeted technical support to develop synergies with the Clean Hydrogen Partnership. As a result of the support Managing Authorities can expect to strengthen cooperation with the JU in key areas regarding R&I and the exploitation of results, including: Technical Assistance, Knowledge Management and Funding and Financing, leading to the signature of Cooperation Agreements. These agreements will reflect the assessment of the different synergy instruments at hand, together with concrete commitments in regard to the implementation of synergies. 
The Cooperation Agreements will structure cooperation differently per authority, allowing the implemented synergies to be tailored to each authority's needs and context.  
Who can apply? 
if you wish to explore synergies with the Clean Hydrogen Partnership and you represent a regional or national Managing Authority willing to develop cooperation with the Clean Hydrogen Partnership in relevant key areas for hydrogen development, we invite you to submit your expression of interest by 14/07/2023.
How to submit your Expression of Interest? 
Every applicant must provide 
Deadline for submitting EoI: 14/07/2023 17:00:00 p.m. (CET)
The proposals will be evaluated in five domains to ensure quality, diversity, and a wide European geographic coverage amongst the Managing Authorities to be selected.  
The Call is now closed. Results will be communicated in September.
If you have any further questions, contact synergies@clean-hydrogen.europa.eu    
Relevant documents:
Details
Publication date

6 June 2023

Author