The energy crisis has increased pressure on governments, industry and researchers to deliver clean, affordable power to ensure Europe's competitiveness and quality of life. As a result, several speakers at this year's edition of the Clean Hydrogen Partnership Forum and its Hydrogen Research Days, part of European Hydrogen Week, have called for a faster rollout of hydrogen technology for transport, homes, businesses and industry.
"We are looking at how we can leverage the great work that has already been done by research and innovation to help accelerate deployment," Pauline Rouch, Head of Cabinet at the Directorate-General for Research and Innovation (DG RTD) told delegates.
European Hydrogen Week, now in its third year, provides policymakers and industry with the opportunity to discuss the state of the hydrogen economy, and for the Clean Hydrogen Partnership to present the results of its various projects. Representatives of the wider scientific community were invited to this year's programme review for the first time, to offer independent opinions and advice on the projects funded by the partnership and its overall activities.
Rouch also said the aim now is to build on the work of the previous two public-private partnerships and the current Clean Hydrogen Partnership – to reduce the cost of renewable hydrogen and increase production, storage, distribution and use.
Synergies for greater impact
Rosalinde van der Vlies, Vice-Chair of the Clean Hydrogen Partnership, said Horizon Europe partnerships needed to be policy-oriented – ensuring that skills remain high on the EU political agenda and to reduce EU dependency on raw material imports. Partnerships need to be open and transparent, and produce tangible results. One way to achieve the latter is through synergies.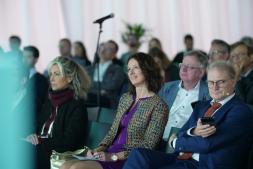 Greater cooperation and partnerships between all sectors, and small and large companies, was a recurring message throughout the week. It would promote innovation and boost the uptake of hydrogen energy, which would stimulate production.
"Synergies are a tool to deliver more impact. The Clean Hydrogen Partnership must look for opportunities to collaborate with other partnerships and programmes," said Rosalinde van der Vlies.
These opportunities should include collaboration with EU countries through cohesion funding, and with cities. A total of 100 EU cities have committed themselves to becoming climate-neutral by 2030. As some of these are port cities, they have the potential to become hydrogen valleys.
A pan-European energy network
Hydrogen valleys are the ideal place to start building a backbone of European clean energy infrastructure. They will grow organically, connecting regions and countries, said Luigi Crema, Hydrogen Europe Research board member. They can help create long-term energy price stability, which will stimulate economic growth.
"They have become a global theme. Partners have realised that it is the best business model to implement the hydrogen economy," said Mirela Atanasiu, Head of the Operations and Communications Unit at the Clean Hydrogen Partnership.
There are 38 hydrogen valleys globally. Of these, 24 have reached the financial investment decision stage. Seventeen of them are European. The aim is to reach 100 hydrogen valleys by 2030 worldwide.
Their importance is underscored by the fact that the European Commission's REPowerEU plan is dedicating an additional EUR 200 million in funding to make them a reality.
"The idea behind the valleys is if we want to develop the hydrogen economy, we don't try to persuade people, we need to involve them," said Hélène Chraye, Head of the Clean Energy Transition Unit at DG RTD.
Once local residents and authorities see the benefits of the technology, the granting of permits is resolved very quickly. For example, getting permits for building a water pipeline to an electrolyser site is an issue several speakers raised. The process can delay a project for up to a year.
 "Permitting and regulations are a pain in the neck. You have to go from town to town and explain to the local guy what you want to do," said Carlos Navas, coordinator of the Green Hysland project, on Mallorca, Spain. Scheduled to end in December 2025, the project had reached 15 % completion by December 2021.
However, some projects have had different experiences. The H2 Future project designed and installed a 6 MW electrolyser at a steel plant in Linz, Austria. Project coordinator Robert Paulnsteiner said getting permission from authorities was the easy part as they already had experience with hydrogen projects.
"It's not only about permitting," said Matthijs Soede, DG RTD's Research Programme Officer. "It's about the transition for everyone. We have to engage with the citizens."
Winning over the public
Increasing public awareness and acceptance of the technology is not easy. To gauge the level of public knowledge, the Clean Hydrogen Partnership has commissioned an EU-wide public opinion survey.
The preliminary results show that there is already a good awareness of hydrogen technology – equivalent to that of other renewable sources such as biofuels or geothermal energy.
People see hydrogen as a promising technology for the next generation of energy supply, part of the mix of clean energy solutions. However, only about 8 % of respondents have come into contact with the technology up to now.
"Hydrogen technologies are not yet used by the public. In addition to awareness, we have to convince people to uptake or buy such solutions. This is one of our objectives for the next 10 years," said Mirela Atanasiu.
Skills, training and education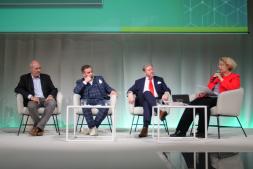 Which is why the European Commission has put skills high on its political agenda, declaring 2023 the European Year of Skills.
There is already a shortage of workers for the current generation of renewable energy. The shortage of technicians and craftsmen is partly due to a lack of appreciation of the importance and value of vocational jobs, said Jorgo Chatzimarkakis, Hydrogen Europe CEO.
Possible solutions included having professionals take children to workplaces to get them interested in new technologies and paying school leavers a monthly stipend of EUR 500 to pursue a vocational career.
The world of knowledge and education needs to adapt to the new technology. The transition to decarbonised energy needs upskilling and education, starting at primary school, to teach children about renewable energy.
Ankica Kovač, assistant professor at the University of Zagreb, said this should include a strong moral component, in the form of creating a sense of responsibility towards the Earth.
A proposed European Hydrogen Academy to be funded by the JU during next year call might be based on the model of the European Institute of Innovation and Technology, serving as a knowledge hub to inspire curricula across Europe.
The New Energy Coalition runs the Hydrogen Valley Campus Europe initiative, which teaches handling and maintenance of equipment, and above all, instils a culture of curiosity in the new technology.
The Coalition's hydrogen strategy director, Patrick Cnubben, said the proposed academy is a superb idea.
"We need skilled people faster, we need to build electrolysers. We need to speed up and scale up. If you can't share, you can't multiply," he said.
Echoing these sentiments, Hélène Chraye said delegates should motivate their regional decision makers and ministers to accelerate the green transition.
She called for synergies with other domains, not just hard-to-abate sectors, for instance in the rail and maritime sectors, and for hydrogen to be made more visible in the EU's Strategic Energy Technology Plan.
Ensuring mass market uptake
Hydrogen Research Days focused on the progress made in hydrogen production, distribution and storage, end-use applications in transport and heat and power, and cross-cutting technologies.  
Discussions about cross-cutting technologies focused on the essential elements needed to ensure their commercialisation. Speakers agreed that the sustainability and safety of hydrogen energy technologies, and public awareness of its benefits are among the essential elements needed to ensure a smooth deployment.
In addition to hydrogen-powered fleets of cars and buses, heat-and-power solutions are making their way into homes and small businesses. Greater volumes are needed and more support for innovative manufacturing should help lower capital expenditure.
Fuel-cell-based micro combined heat-and-power systems of around 0.7 kW can significantly reduce energy bills in homes. The general profile of early adopters is affluent couples or families, said Hans Korteweg, coordinator of the PACE project.
Scheduled to end in 2023, PACE aims to install 2 800 units in 10 EU countries. With the project 85 % complete, there have been very few negative responses from homeowners. Hans Korteweg said that in his own experience with a unit in his home, connecting it to the grid has been one of the few problems.
He believes energy solutions like these foster innovation and high-value jobs and result in energy savings.
There was general agreement that the level of technology is not the problem. It is finding customers, and qualified installers.
More information about all the projects that have been presented during the EU Research Days can be found here: https://www.clean-hydrogen.europa.eu/about-our-projects_en.
Details
Publication date

9 November 2022

Author