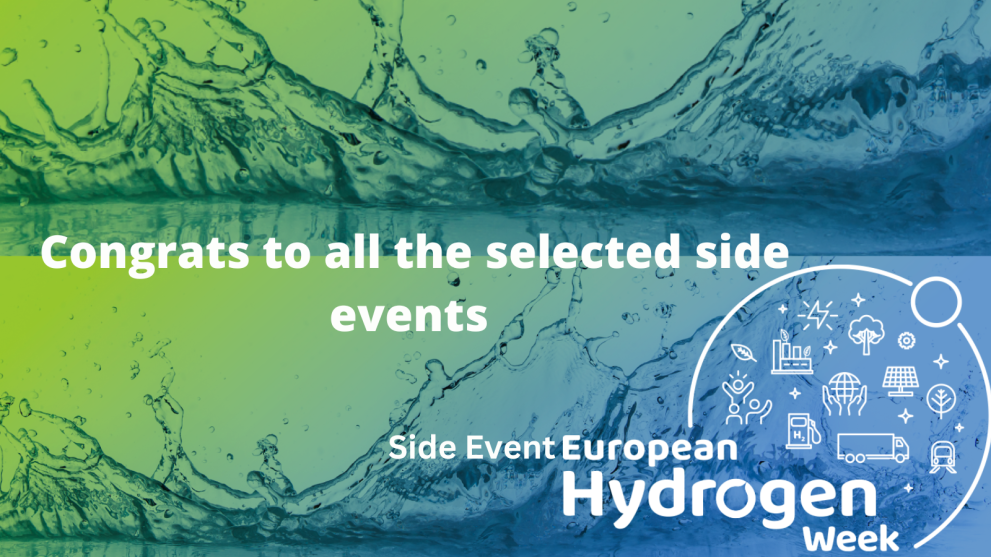 Clean Hydrogen Partnership is happy to share with you the list of side events selected under the umbrella of European Hydrogen Week 2022. The events intend to complement the goals of the week through discussions and presentations around the development of the hydrogen economy across Europe.
For the first time, we had given to our partners the opportunity to be part of the European Hydrogen Week 2022 by organising side events across Europe.
Local and regional authorities, municipalities, public and private entities were encouraged to share ideas and latest developments within the Hydrogen Community during the entire month of October 2022.
We received a large number of applications, and after carefully reviewing all of them we selected the following  side events. 
We strongly encourage you to register for these events. Let's Repower Europe together!
HTP4: Hydrogen Valley project Commissioning, Training & Operations
organised by HTP - Hydrogen Technologies Platform (Clean Hydrogen Partnership funded programme)
When: 4 October 2022, (online)
Polish Conference for Hydrogen Energy and Technologies 
organised by Cluster of Hydrogen Technologies / Regional Pomeranian Chamber of Commerce. 
When: 4 - 5 October 2022,  Poland (hybrid)
Profiting from the hydrogen boom: Opportunities for Small and Medium-Sized Enterprises in the H2 Equipment Industry
organised by Niedersächsisches Ministerium für Wirtschaft, Arbeit, Verkehr und Digitalisierung , Unternehmerverbände Niedersachsen e.V., Energie-Forschungszentrum Niedersachs and Innovationszentrum Niedersachsen GmbH.
When: 5 October 2022, Germany (on site)
Green Hysland x H2Ports Webinar: Decarbonising the Maritime Sector
organised by FEDARENE (on behalf of Green Hysland), co organised with H2Ports
When: 5 October 2022, (online)
Business opportunities for Estonia as a hydrogen region
organised by Estonian Association of Hydrogen Technologies, The Netherlands Embassy in Estonia, Estonian Parliament's Hydrogen Support Group, Paldiski Business Association
When: 12 October, Estonia (hybrid)
IFRF TOTeM – Hydrogen for decarbonisation
organised by Comité Français de l'IFRF - International Flame Research Foundation (CF-IFRF).
When: 13 October 2022, Paris (on site) 
Hydrogen Ecosystem North Adriatic 2022 & H2Student
organised by Chamber of Commerce and Industry of Northern Primorska & ECUBES 
When: 18 October 2022, Slovenia 
Clean hydrogen technologies in Slovenia and its cross-border neighbourhood
organised by Chamber of Commerce and Industry of Štajerska / SRIP – Circular Economy
When: 18 October 2022, (online) 
gat | wat 2022 – Der DVGW-Leitkongress der Energie- und Wasserwirtschaft  
organised by DVGW e.V. / DVGW Kongress GmbH22.
When: 18 – 19 October 2022, Berlin (on site)
            26 September – 13 November 2022 (online)
SHFCA2022 Hydrogen Scotland Conference
organised by Scottish Hydrogen & Fuel Cell Association.
When: 20 October, Scotland (on site)
Paving the Way for Green Hydrogen in Aviation - Challenges, Perspectives, & Career Paths
organised by Bauhaus Luftfahrt e.V.
When: 20 October, Germany ( hybrid)
Green Hydrogen: Make it, Move it, Use it – Building an early hydrogen market in Scotland and Bavaria
organised by Hydrogen Center Bavaria (H2.B) and Scottish Hydrogen and Fuel Cell Association (SHFCA)
When: 24 October (online)
Green Deal leveraging Green Hydrogen businesses as decentralized sustainable development vector
organised by Mezzegra Green Energy 
When: 26 October 2022, Portugal (on site)
The principle of technological neutrality and hydrogen incentives
organised by European Roundtable of Climate Change and Sustainable Transition
When: 27 October 2022, Belgium (hybrid)
Materials Challenge for Hydrogen Production 
organised by TNO – VoltaChem (Netherlands)
When: 27 October 2022 (online)
Hydrogen deployment in centralised Power Generation
organised by European Turbine Network Young Engineers Committee
When: 28 October 2022  (online) 
Touching Hydrogen Future - What would a Hydrogen-powered future look like?
organised by Erik Rakhou (Touching Hydrogen Future)
When: 28 October 2022, Holland 
Celebrating collaborative innovation in hydrogen technology development
organised by Innovate UK/KTN 
When: 25 October (online)
The importance of global cooperation for the hydrogen market ramp-u
organised by Gesellschaft für Internationale Zusammenarbeit (GIZ) implementing on behalf of  Federal Foreign Office of Germany and German Embassy in Brussels.
When: 25 October, Germany/Belgium (on site)
European Regions for Hydrogen Society 2022
organised by ACDIPE – Portugal Europe Initiative
When: 27 October 2022, Belgium (hybrid)
The EU Hydrogen Strategy: Are member states on board?
organised by Institute for Advanced Sustainability Studies ; Friedrich Ebert Stiftung Just Climate  Competence Center
When: 27 October 2022 (on site)
Web TV on the decarbonisation of the maritime transport: solutions offered by renewable hydrogen and wind propulsion
organised by Bretagne Development Innovation
When: 27 October 2022 (online) 
The future is now a potency of hydrogen use in Lower Silesian Hydrogen Valley
organised by Lower Silesian Hydrogen Valley
When: 27 October Poland (on site)
Details
Publication date

3 October 2022

Author