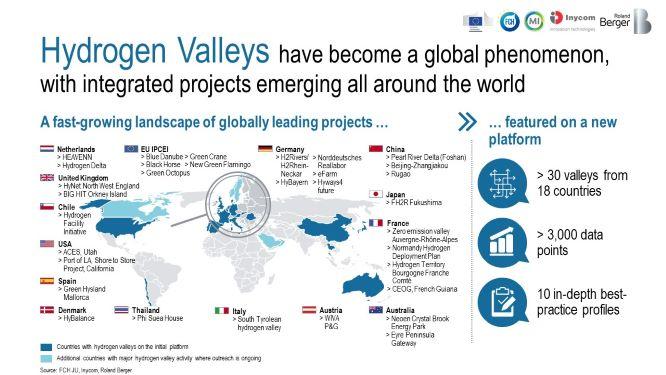 More than 1000 participants from across the world gathered on 19 January for the launch of the Hydrogen Valley Platform (H2V.eu) developed by the FCH JU under the umbrella of Mission Innovation "Renewable and Clean Hydrogen" Innovation Challenge. Hydrogen Valleys have recently become a global phenomenon, with integrated, complex projects emerging across the world in a drive to accelerate the development of the hydrogen-driven economy.
The platform presents and connects the existing regional clusters, with 32 hydrogen valleys from 18 countries already featured on the platform. It is aimed primarily at project developers but is also raising awareness among policy makers.
Key findings of the global analysis of hydrogen valleys are:
The valleys are diverse in almost every way, but all feature different signs of a maturing market
Developers face common challenges, especially concerning business cases and regulation
Hydrogen valleys will play an integral part in building further momentum in the market
The FCH JU coined the concept of hydrogen valley as a way to designate a geographical area – a city, a region, an island or an industrial cluster - where several hydrogen applications are combined together into an integrated hydrogen ecosystem that consumes a significant amount of hydrogen, improving the economics behind the project. It covers the entire hydrogen value chain: production, storage, distribution and final use. As such, "hydrogen valleys" offer a pathway for scaling up and making this technology a viable solution.
Participants illustrated the concept by presenting some of the most interesting hydrogen valley projects from US (Advanced Clean Energy Storage), Australia (Eyre Peninsula Gateway) and Europe, including the recently FCH JU funded project "GREEN HYSLAND" which aims to deploy a fully-integrated and functioning H2 ecosystem in the island of Mallorca, Spain.
Speaking at the event, Patrick Child, Deputy Director-General of DG Research and Innovation at the European Commission and Chair of the Mission Innovation Steering Committee said: "the European Commission is committed to international collaboration on hydrogen and will continue to co-lead future initiatives to boost the hydrogen economy".
"This platform is undoubtedly an important initiative to take the hydrogen valley concept to the next level and a very useful tool for project developers and not only. The platform will increases the visibility of Hydrogen Valleys in the industry, among policy makers and funding entities and boost the uptake of the hydrogen economy," said Bart Biebuyck, Executive Director of the FCH JU.
European Commission, Germany and Australia are co-leading the Mission Innovation "Renewable and Clean Hydrogen" Innovation Challenge.
Check out the platform website www.h2v.eufor more information about the hydrogen valleys.
You can find the available presentations from the launch event here.
Details
Publication date

21 January 2021

Author

Fuel Cells and Hydrogen 2 Joint Undertaking