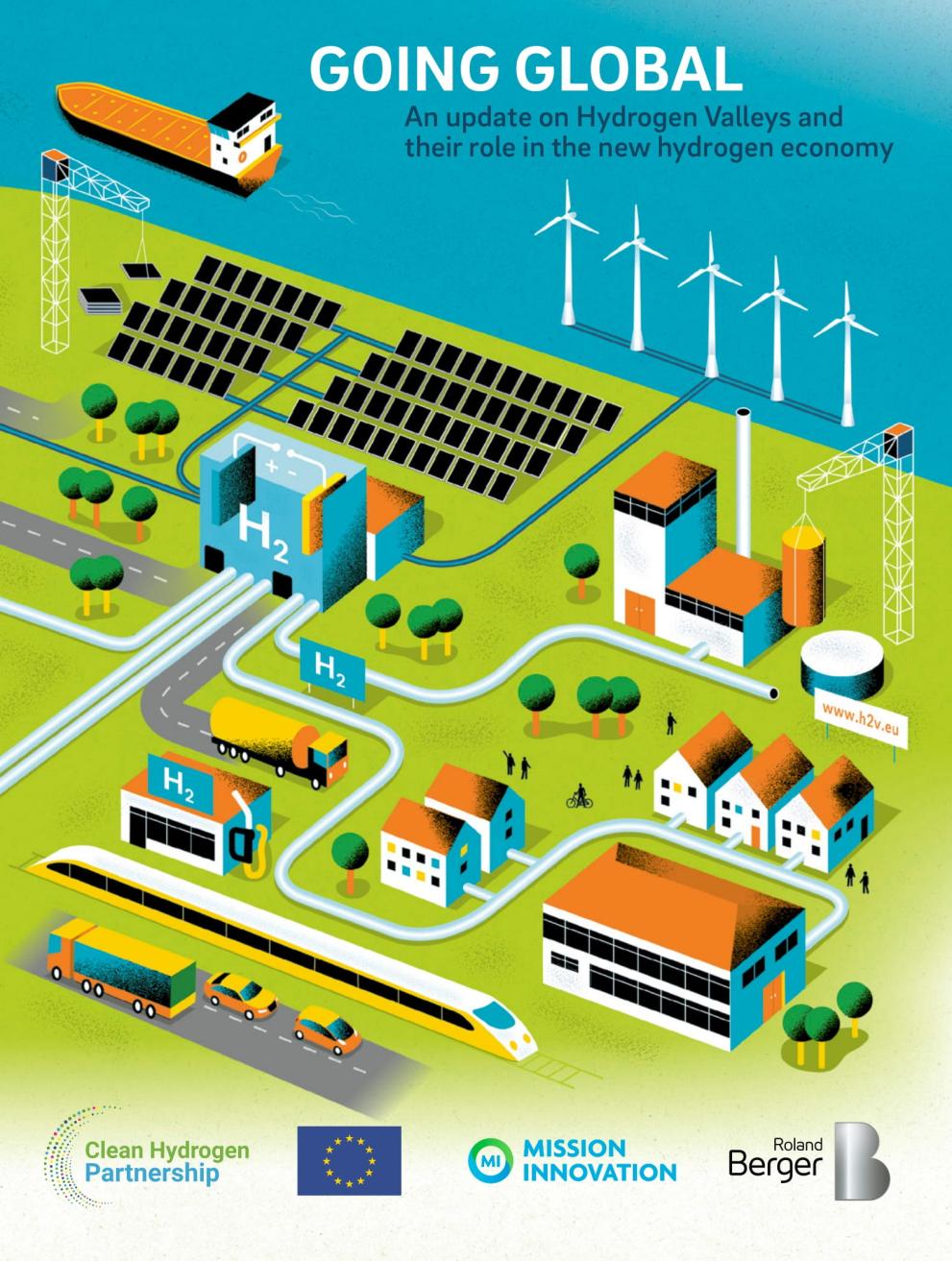 Hydrogen Valleys have started to form first regional "hydrogen economies", as bottom-up steppingstones in the development of the new hydrogen economy overall. Moving beyond mere demonstration activities, Hydrogen Valleys are the next-level pioneers of the market and ultimately the steppingstone towards the full scaling of the New Hydrogen Economy.
Hydrogen Valleys typically comprise a multi-million EUR investment, spread across a defined geographic scope and cover a substantial part of the value chain, from hydrogen production, storage and transport to its end use in various sectors (industry, mobility, energy). Over the past few years, Hydrogen Valleys have gone global, with new projects emerging worldwide.
Currently, 38 European hydrogen valleys at different stages of development are part of the Mission Innovation Hydrogen Valleys Platform. The Platform is now entering its second stage of development.
In the light of the upcoming 13th Clean Energy Ministerial and 7th Mission Innovation (CEM13/MI7) ministerial in Pittsburgh, USA (September 21-23), the Clean Hydrogen Joint Undertaking prepared an update report on Hydrogen Valleys and the Mission Innovation Hydrogen Valley Platform, focusing on the role of Hydrogen Valleys in unlocking the New Hydrogen Economy. The report summarizes the emerging hydrogen market today and presents insights on Hydrogen Valleys from around the world.
Bart Biebuyck, Executive director of the Clean Hydrogen Partnership, said:
"Hydrogen will be essential to replace natural gas, coal and oil in hard-to-decarbonise sectors in industry, mobility and energy. Hydrogen Valleys will become an important cornerstone in producing, importing, transporting, and using clean hydrogen in Europe. I expect other geographies to follow similar strategies (hydrogen hubs, clusters, ecosystems, etc.), as local agglomerations of various hydrogen users, shared infrastructure and joint supply sources are essential to scale the industry and take the "New Hydrogen Economy" to the next level. In light of this, I am very pleased that this report further promotes the Hydrogen Valley concept by providing more insights to project developers, industry, and policy makers alike."
You can find the full report for download here: https://h2v.eu/analysis/reports
The Mission Innovation H2Valley Platform is available here: https://www.h2v.eu/
If you are interested in joining the platform, please get in touch regarding your Hydrogen Valley via https://h2v.eu/join-us or send an email to H2V@clean-hydrogen.europa.eu
Details
Publication date

23 September 2022

Author