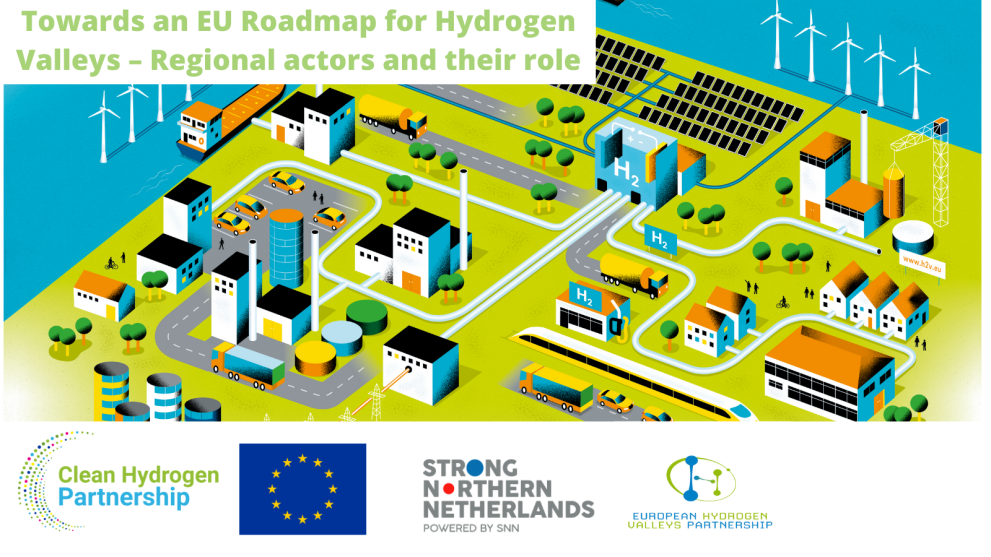 The Clean Hydrogen Partnership, the European Hydrogen Valleys Partnership and the Northern Netherlands region organised the workshop "Towards an EU Roadmap for Hydrogen Valleys – Regional actors and their role: double the number of valleys by 2025 and build-up skills", on 28 February and 1 March 2023 in Brussels. 
The purpose of this two-day workshop was for the regional and local actors to talk about current opportunities and challenges in rolling-out and scaling-up Hydrogen Valleys in Europe. More than 150 people attended the workshop on each day, showing the increasing interest towards the topic.
Bart Biebuyck, Executive Director of the Clean Hydrogen Partnership, opened the workshop and introduced the work that the partnership – and its predecessor, the FCH JU – started with regions back in 2017, which led to the establishment of the H2 Valley Partnership, and the launch of initiatives such as the Project Development Assistance for the regions (PDA), as well as the inclusion of H2 Valleys as topics of the last calls for Proposals (starting with Call 2019).
Melissa van Hoorn, Regional Minister of Energy, Groningen Province, welcomed everyone on behalf of the Northern Netherlands and provided a background on the policy framework that provides support for hydrogen within the ambitious of the region to shift from a natural gas to a hydrogen based economy.
Rosalinde van der Vlies, Director, of the Clean Planet Directorate in DG Research and Innovation, emphasised the big momentum that has been created at EU level for hydrogen, that was backed-up by the strong political messages in the REPowerEU communication, including the additional €200 million for the Clean Hydrogen JU to support doubling the number of hydrogen valleys by 2025.  
Presentations on the first day of the workshop included a state of play of H2 Valleys in Europe – and across the world, an overview of the European H2 Valleys Partnership, as well as several technical topics such as successful engagement of public and private stakeholders, creating and managing a project consortium and securing public financial support.  
The second day focused on Knowledge transfer, citizens Empowerment and building the skills for the hydrogen economy  - in the context of new hydrogen valleys development. It also looked at case studies of capacity building in the Central and Eastern European countries..
Click here to see all the presentations.
Details
Publication date

15 March 2023

Author