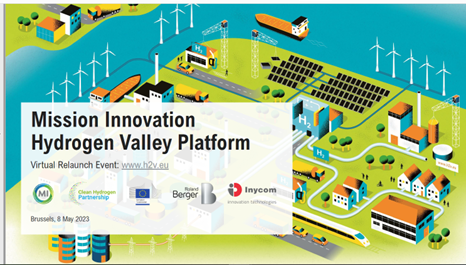 The recording and the presentations of the webinar held on 8 May 2023 for the Relaunch of the Hydrogen Valley Platform are now available on the dedicated page.
Under the Mission Innovation "Clean Hydrogen Mission" and on behalf of the European Commission, the Clean Hydrogen Partnership has organised on 8 May 2023 an online event dedicated to the re-launch of the Hydrogen Valleys Platform . 
Based on extensive collection of primary data from the projects, the platform provides comprehensive insights into the most advanced and ambitious Hydrogen Valleys around the globe.
We'd like to thank all participants for their interest in the event and we invite you to consult the updated platform at H2V.eu. For further information on the platform please contact H2V@clean-hydrogen.europa.eu. 
In addition, we are happy to share the outcomes of the first workshop we held earlier this year on the topic, "Towards an EU Roadmap for Hydrogen Valleys". The event focused on EU regional actors and their role to double the number of valleys by 2025 and build-up skills, and took place on 28 February and 1 March 2023 in Brussels.
Details
Publication date

16 May 2023

Author