Details
Publication date

5 October 2018

Author

Fuel Cells and Hydrogen 2 Joint Undertaking
Description
Fuel cells and hydrogen are a viable solution for European regions and cities to reduce their emissions and realise their green energy transition, says new FCH JU study.
In 2017 the FCH JU launched an initiative to support regions and cities in this regard. Today, 89 regions and cities participate, representing about one quarter of Europe's population, surface area and GDP. These regions are pursuing ambitious plans to deploy FCH technology in the coming years. FCH investments totalling about EUR 1.8 billion are planned for these regions in the next 5 years. These planned investments can contribute significantly to further developing the FCH market in Europe and driving the sector towards commercialisation.
The new studyprovides a detailed insight into the FCH investment plans of the participating regions and cities and points out next steps to be taken for realising a European FCH roadmap with a view to commercialising the technology. In particular, the study shows that:
European regions and cities need to take action now to realise their ambitious emission reduction targets and improve local air quality.
Investing in fuel cell and hydrogen technology pays off for cities and regions, as it provides a mature, safe and competitive zero-emission solution for all their energy needs.
Regions and cities can benefit from investing in hydrogen and fuel cells not only in environmental terms, but also by stimulating local economic growth and creating attractive places to live, work and visit.
The Regions and Cities Initiative provides a unique opportunity to benefit from existing knowledge, draw on project development support and financing assistance to realise own FCH deployment projects.
To enable the realisation of the envisaged FCH deployment plans of the regions and cities continued support will be required for individual projects as well as the coalition at large.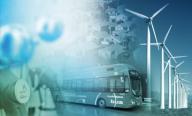 Files