Details
Publication date

15 May 2020

Author
Description
The report provides an overview of the progress achieved so far and a comprehensive analysis on Life Cycle Assessment (LCA) for various hydrogen technologies and processes. The review considers 73 FCH 2 JU founded projects.
The LCAs have been assessed regarding the adherence to guideline recommendations, methodology and overall quality of the work. Based on the outcome of this analysis, a harmonisation effort in the approach to LCA for the FCH JU founded projects is proposed; in particular a Life Cycle Inventory (LCI) database useful for the projects is required together with the identification of a reference case to be used as benchmark for future LCAs.
The Life Cycle Assessment of Hydrogen and Fuel Cell Technologies report conducted by the EC Joint Research Centrre (JRC) is available here.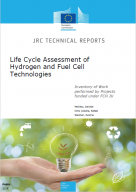 Files
JRC116599_life_cycle_assessment_of_hydrogen_and_fuel_cell_technologies_final (1) (ID 8694630).pdf
English
Download