Details
Publication date

14 November 2019

Author

Fuel Cells and Hydrogen 2 Joint Undertaking
Description
The 2018 Programme Review Report as an outcome of the Annual Programme Review Exercise in 2018, has now been published and you can find it here.
The Report presents the findings of a review into activities supported by the FCH 2 JU by the European Commission's Joint Research Centre (JRC). The 2018 review includes 87 projects that were ongoing for any time in April-October of 2017.
It pays particular attention to the added value, effectiveness and techno-economic efficiency of FCH 2 JU projects, assigned to six review panels under two main pillars – Transport and Energy – as well as Support for Market Uptake (cross-cutting) activities such as standards and consumer awareness.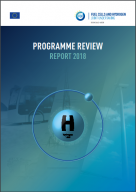 Files