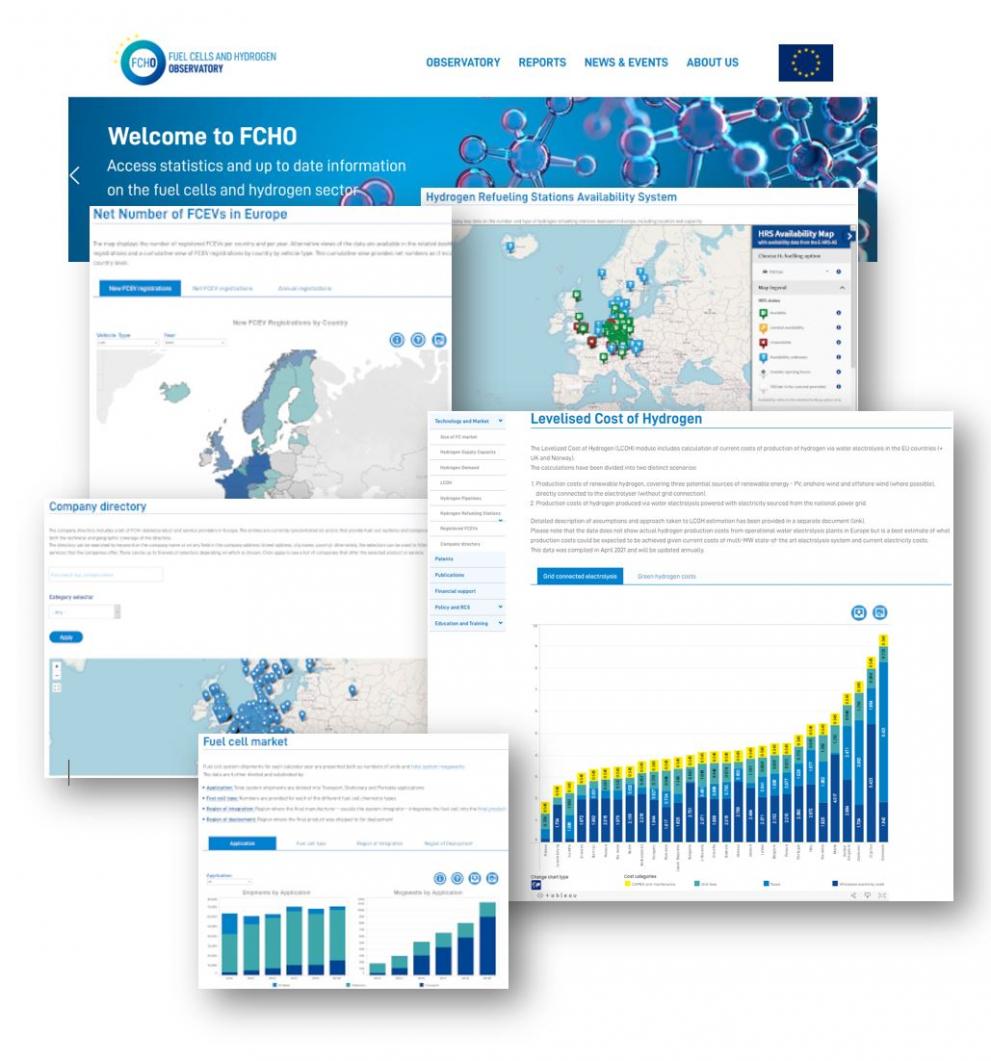 The Fuel Cells and Hydrogen Observatory(FCHO) aims to provide publicly available data at EU and national level concerning the uptake of fuel cell and hydrogen technologies on the EU market, and a coordinated methodology on how to monitor their market evolution. It contains and provides updated information and reports in the following areas:
Technology and Market, including a list of product developers, manufacturers and service providers (former company directory)
National and EU Policies
Regulations, Codes & Standards
Patents & Publications
Education & Training
Financial Support & Incentives
FCHO was commissioned by the predecessor of the Clean Hydrogen JU, the Fuel Cells and Hydrogen JU, under a public procurement contract. The consortium partners included the following organisations: E4Tech, Hydrogen Europe, HGF, NEN, Hydrogen Europe Research, Innovation Loop, and Inycom.
The FCHO portal is an open platform providing data and up-to-date information about the entire hydrogen sector. It was officially launched on 15 September 2020 during an online event with around 1000 participants from European and national institutions, industry and associations from around the world.
The FCHO has been created for the policymakers, researchers, hydrogen industry stakeholders and citizens to easily access and retrieve information. It has been seeing a steadily increasing number of visitors since its launch, indicating its acknowledgement as an important source of information.
The closing of the contract that set up the FCHO signifies the end of the first phase of the observatory. The Clean Hydrogen JU will continue to support the observatory, through a second public procurement that was recently published. The FCHO will be renamed to European Hydrogen Observatory and will be further enhanced. The primary role of the observatory will be to act as the European one-stop source of information for hydrogen, aiming to sustain and further enhance the current position of FCHO as the reference point for information on fuel cells and hydrogen technologies and applications for Europe.
Check out the FCHO platform  website for more information about the hydrogen valleys.
Follow FCHO on Twitter and LinkedIn to receive notifications of FCHO publications and activity.
Find here the final implementation report and the handover and portal management documentation.
Details
Publication date

25 July 2022

Author