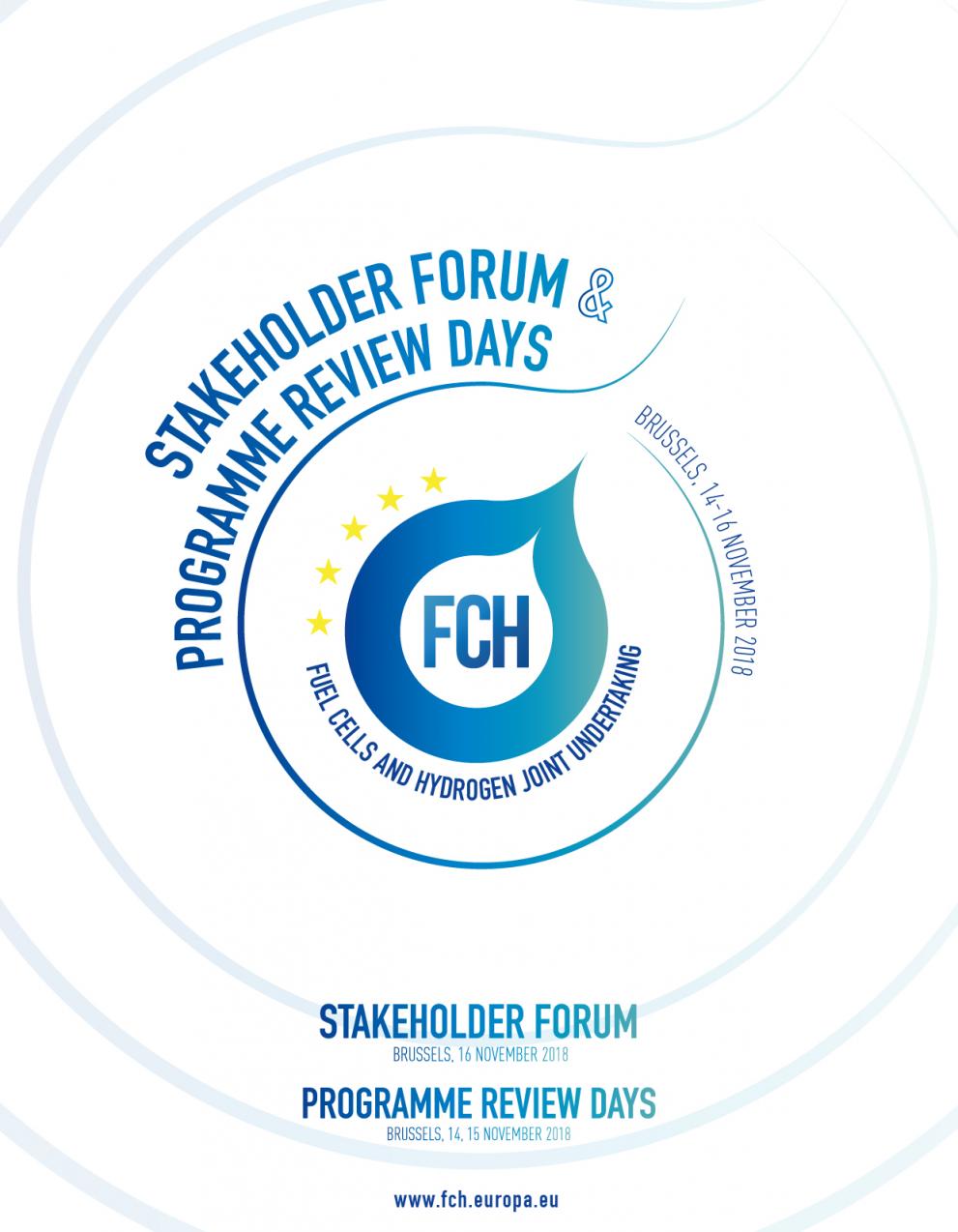 The 2018 edition of the Stakeholder Forum took place on the 16 November 2018 in Brussels.
Venue: Charlemagne Building (European Commission): Rue de la Loi 170, 1000 Brussels
Overview
Since its first edition of 2008, the Stakeholder forum has brought together the European Fuel Cell and Hydrogen community. More than 10 years after, it continues to create a unique environment for making new connections or renewing old ones and serves as a forum to discuss the role of fuel cells and hydrogen in the energy and transport sectors and beyond. Our goal is to welcome speakers who inspire and inform our guests with the best insights, experience and perspectives.
The 2018 edition gathered representatives of EU institutions, industry and research and other energy, climate and transport stakeholders around the following topics:
Session I - Building the road to consumers - addressed the strategic development of the Hydrogen Infrastructure in Europe
Session II – Working together: towards sectoral integration- highlighted the importance of sectoral Integration through collaboration with other players
Session III – DeliveringJobs & Growth - discussed the European Hydrogen Economy in a worldwide context , and fuel cells and hydrogen as areas of economic growth and job creation.
​The Stakeholder Forum was preceded by the Programme Review Days (PRD) on 14- 15 November 2018, and the FCH JU Awards, in the evening of 15 November.
Speakers' presentations
SESSION I - BUILDING THE ROAD TO CONSUMERS
The strategic development of the hydrogen infrastructure in Europe
KLAUS DIETER BORCHARDT, Director - Internal Energy Market, Directorate-General for Energy , European Commission
JON ANDRÉ LØKKE, Chief Executive Officer NEL Hydrogen
THIERRY TROUVÉ, Chief Executive Officer, GRTgaz
NIKOLAS IWAN, Managing Director, H2 Mobility Deutschland
JAN INGWERSEN, General Manager, ENTSOG
SESSION II - WORKING TOGETHER: TOWARDS SECTORAL INTEGRATION
Towards sectoral integration through collaboration with other players
TUDOR CONSTANTINESCU, Principal Adviser to the Director General for Energy, European Commission
DR. RUDOLF ZAUNER, Head of Hydrogen Center, VERBUND
BARBARA POSCH, Councillor, Federal Ministry for Sustainability and Tourism, Austria
RENE SCHUTTE, Hydrogen coordinator, Gasunie
PASCAL MAUBERGER, Chief Executive Officer McPhy
HENRIETTE UNDRUM, Vice President New Energy Solutions, Equinor
SESSION III - EUROPEAN HYDROGEN ECONOMY IN A WORLDWIDE CONTEXT
JOSÉ COTTA, Head of Unit, Directorate-General for Research and Innovation, European Commission
FLORENCE LAMBERT, Director, CEA Liten
UWE REMME, Directorate of Sustainability, Technology and Energy, IEA (International Energy Agency)
RALUCA MARIAN, Senior Adviser – Passenger Transport, IRU (International Road Transport Union)
Video
16.11.2018 –> https://webcast.ec.europa.eu/fch-ju-programme-review-days-stakeholder-forum-on-14-16-november-2018-day-3